Laminitis is a crippling disease affecting the feet of horses and ponies. The bone in the foot separates from the hoof wall and the loss of support of the pedal bone causes pain.
The aim of this website is to inform & hopefully give some clarity in the midst of confusion.
This is not a sponsored web site but has been set up by a veterinary surgeon who is dedicated to saving horses and ponies from this awful condition.
The question is not "Why do we succeed?". I want to know the answer to "WHY DO WE FAIL?"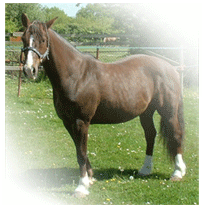 It is possible to purchase items from this site, but information is provided for you to make or acquire them at little cost. What I do ask is that you do one or the other because I strongly believe that they could help to save your horse.
For simplicity on this site, I have used "horse" to refer to horse & pony.
If you find this site a useful resource please add a link to your site to aid in the passing of information