Walking stiffly: Often the first sign seen is the horse or pony is walking stiffly or is "slightly pottery" on the front feet.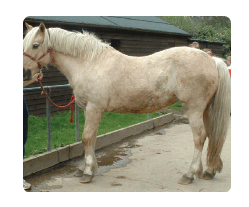 Shifting weight: They will often shift their weight from one front foot to the other if both are affected. Shifting weight on the hind feet may not be so obvious since they are often rested in the non-laminitic horse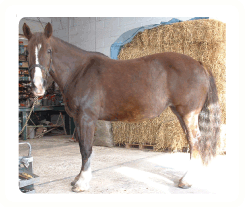 Far more commonly symptoms seen in the front feet: It can occur in any number of feet and in any combination. The front feet are generally worse affected. They may place the front feet forward and lean back on the hind legs to take the weight off the front feet.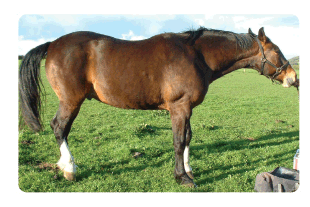 Difficulty turning: They may have difficulty turning, leaning back onto their hind legs and shuffling round on the front feet.
Obvious digital pulse: The pulse in the digital arteries is often not easy to feel in normal horses but the increased pulse that occurs in laminitis is generally easy to feel.(Increased digital pulse occurs also with pus in the foot).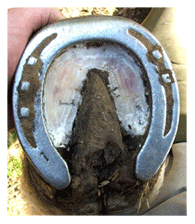 Pain on solar pressure:Applying pressure on the sole in front of the frog will often be painful. In more severe cases the painful area will extend in a crescent around the tip of the frog. (The pink crescent in the photograph indicates the affected area from a laminitic episode six weeks previously.)
Heat in feet: The feet and coronet may feel warm to the touch. (The feet can also have heat with sole bruising and with infection.)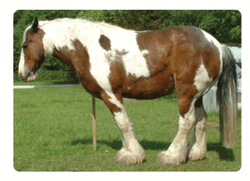 In more severe cases the horse will be more reluctant to walk, and if worse they will refuse to walk at all.
Sinkers: When the laminitis episode is so bad and the pedal bone loses all support then it will sink down in the hoof. The horse may struggle to find a comfortable position and stand with all four feet underneath it.
The chronic case: The same symptoms as for the acute case but may also be visible deformation of the feet with a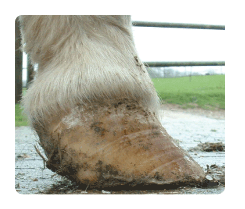 change of angle of the dorsal wall, divergent growth rings indicating faster hoof growth at the heels and dropping of the sole in front of the frog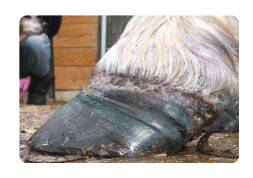 If in doubt, always treat for laminitis. (First aid treatment for laminitis, if there is another problem, will almost certainly not make it worse. Treating for other conditions, when it is laminitis, may mean that further separation and irreparable damage may occur.)