Frog supports should be applied to horses suffering from laminitis as soon as possible.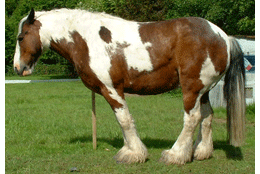 Many horses are more comfortable following the application of frog supports, even in a "sinker" with all four feet affected. Please roll-over this image.
The application of a frog support is to try to prevent further movement of the pedal bone in the hoof but is not able, or intended to, force it back into position.
There are a number of alternatives that one can use.
Styrofoam blocks can be taped to the feet.(Styrofoam Support System TFP Ltd) After a couple of days when these are compressed, they are trimmed so that when they are reapplied no pressure will be on the sensitive areas of the sole. A further Styrofoam block is taped over the top of the trimmed piece.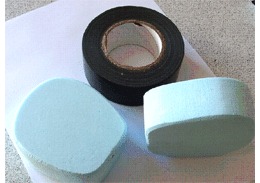 These are popular with many vets and farriers but others prefer not to use them.
Some are concerned that pressure is applied to the sensitive sole in the time that it is being compressed and before it is trimmed.
I have found that ther is a practical problem in using them. They are best used if the horse is stabled on a firm surface so that one gets satisfactory compression, but if they are used on a bad case of laminitis then we will generally want the horse to be on a deep bed to encourage them to lie down and take presure off their feet. I have not been very successful with them because of this.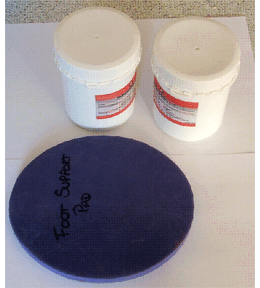 Total Foot Protection , who marketed the Styrofoam Support System, have now brought out the "Stable Support System" which overcomes some of the problems that there were with the Styrofoam blocks. I have no experience of the use of these, so cannot comment.
There are thinner pads that some farriers apply to the feet, using ruberised dental impression material underneath, to give support under the posterior part of the foot. These are generally used in ponies with laminitis. The Stable Support System is a combination of this type of support and the Styrofoam blocks.
The Laminitis Clinic can supply ready to use frog supports which are very satisfactory and, although they cannot be trimmed, they can generally be applied to any size of foot.


I personally use very simple forms of frog support, either bandages or more recently I have been using a latex pad cut to shape. Both these are cheap and seem to be effective.
see First Aid
Guide to applying frog supports can be seen below